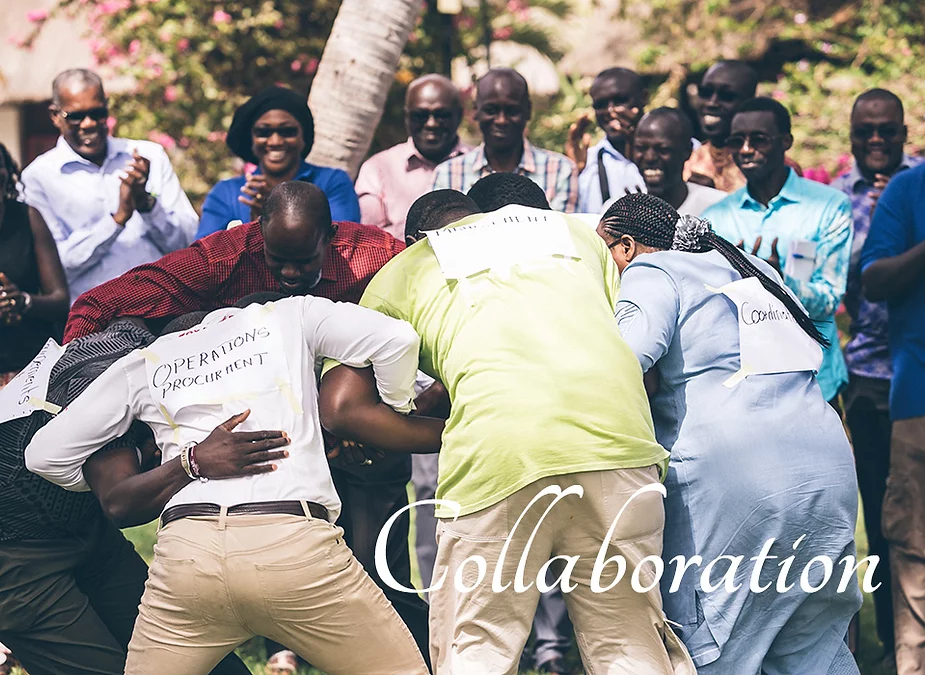 Imagine heading out to sea in a dugout canoe with your colleagues to take part in a great treasure hunt on Ngor or Gorée islands.
This ​is an example of a typical fun team building activity that we organise for our clients. It usually only lasts only a few hours yet has an immediate effect by increasing respect, solidarity and cohesion within a group.
Most often, we recommend our clients to combine team building and team coaching which allows teams to take a step back and identify ways to improve ways of working in their teams.
For example, in May 2019, we supported Oxfam's Regional West and Central Africa office using the combined approach of team building and team coaching: find out more about the impact of this intervention by clicking here.
Our team coaching generally takes place over a longer period, ranging from 2 months to over a 1 year. We adopt a coaching posture, ensuring that participants are continuously engaged and take responsibility for their learning and progress.
Change is accelerated when it is co-created. Our role is to facilitate a process that integrates and supports those people who will implement changes that are identified.
"We noticed a lot of progress after our sessions with Beautiful Soul, but we would have liked to have more time as two days was not enough."
This comment is taken from a Manager who participated in a program delivered by Beautiful Soul.
It illustrates the advantage of engaging in longer term support offered by Beautiful Soul which allows us to:
Deploy and combine a range of services  to accelerate the transformations our clients want to achieve using: tools and personality tests, team self-assessments, face-to-face or online training in webinars, individual coaching for leaders, managers and high potential contributors, etc




Diversify our approaches based on the context: Facilitation to produce a clearly defined deliverable, such as a budget or an annual action plan; Group coaching, Action training to co-create a strategy; Appreciative Inquiry when a significant qualitative leap is desired; Design Thinking to generate innovative ideas.

​Guarantee more concrete and measurable results and a real transformation of both the individual and the organization. The results of a study réalisée par Elizabeth Thach révèlent que des cadres d'une même organisation ayant participé à trois à cinq sessions de coaching ont signalé un impact positif plus important par rapport à ceux n'ayant participé qu'à une ou deux sessions. 
Whether you wish to organize a team building event, invest in team coaching, or combine these two approaches, Beautiful Soul is at your disposal to answer your questions and build your program together. Do not hesitate to contact us by clicking here.