 Patricia is the founder and managing partner of Beautiful Soul. Since 2013, the expert team of 20 professionals she leads, has served 15 countries, 200 organisations and over 9,000 individuals with a recommendation rate of over 8/10.
Patricia is certified as a senior coaching practitioner by the European Mentoring & Coaching Council (EMCC), which recently awarded her an "International Coaching Award", a first for a coach based in Africa. She has also developed expertise in mediation techniques (CEDR certified) and Appreciative Inquiry (advanced certification from the French Institute of Appreciative Inquiry "IFAI" and of the Case Western Reserve University de Cleveland).
Before founding Beautiful Soul, Patricia held management positions at Oracle and the United Nations (rank: P4). She is a graduate of INSEAD (MBA), Université Paris Dauphine (MSTCF), and ESCP (Certificate in Entrepreneurship) and has lived and worked in 5 different countries.
Languages: French, English and Wolof
Make an appointment
Patricia is a wonderful coach. When I was first introduced to her and her organization, Beautiful Soul, I did not really understand the value of professional/executive coaching. 5 years later, I have seen her coach teams and individuals in a transformative way. The innovative and adaptive approaches she uses have proven effective in our context and produced tangible results in organizations and individuals. Thanks to the individual coaching sessions with Patricia, I have experienced a personal transformation that is bringing me closer to the African Woman leader I want to be. With her help and guidance, without judgment, I was able to identify specific areas I needed to work on to become a better person, manager, and leader. In addition to being a careful listener, Patricia gives open and honest feedback that allowed me to explore and analyze my own behavior and commit to long term changes. Without hesitation, I would strongly recommend Patricia to managers and executives in Africa and beyond.

Patricia is undoubtedly one of the best coaches I've ever worked with. Not only is she always able to select the appropriate frameworks to deal with the situation at hand, she has a kind of empathy and almost six sense to address the core issue. While she's extremely compassionate, she's also unafraid to push you harder. There is something about Patricia's energy that really keeps me calm as well. I would recommend her to everyone!

The experience, the emotional intelligence and Patricia's way of stepping back has been greatly helpful for me, as a team leader, as I search for conflict resolution and greater collective performance. I have seen concrete results both at an individual and at a group level, thanks to her coaching and her knowledge of modern management tools in human resources and "coaching." I hope to continue working with Patricia and to benefit from her support.

As a professional coach, Patricia brings a highly effective combination of tools that helped me to crystallize my key objectives and then build a work program that identified and prioritized key building blocks to achieve my goals. Patricia also helped me to focus and manage the day to day stress of a busy active office and large team and to develop constructive approaches to address human resource challenges. Her spirituality, positive can do attitude was infectious and inspired me to be ambitious, upbeat and forward looking.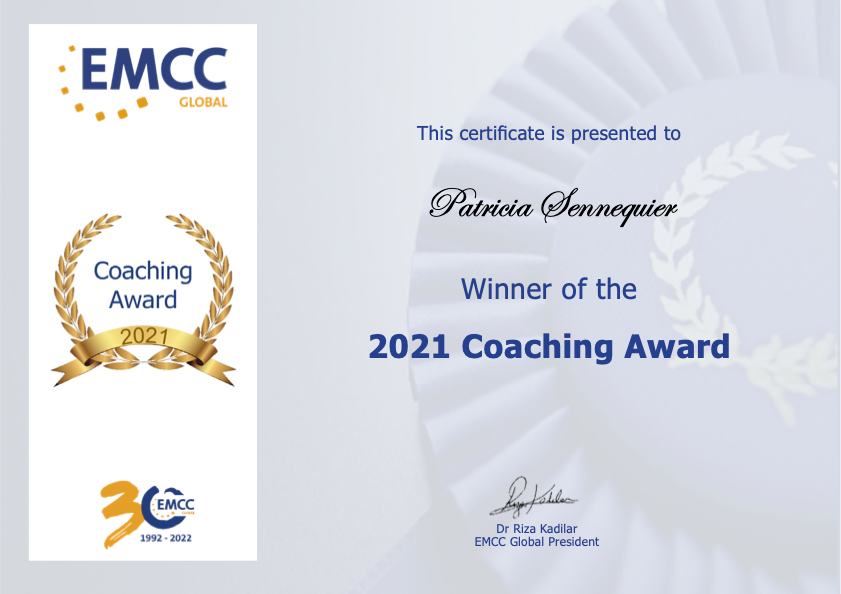 What are the levers that can be used

EMCC Global Coaching Awards 2021

#WeAreBeautifulSoul - Patricia Sennequier, Founder Lead Activator